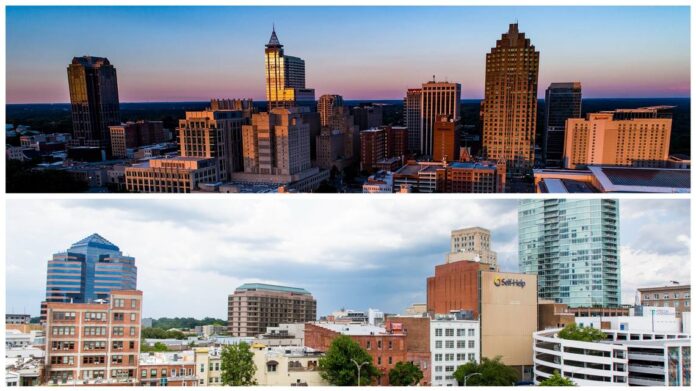 North Carolina is a beautiful state along the east coast. Here, you can find great weather, sandy coasts, and luscious woodland all in one! Let's go over the big three in the Research Triangle of NC.

Raleigh

This city has become quite a desirable one in the past few decades. Raleigh offers prominent businesses and employment, low costs of living for a city, and an excellent education system. This capital city is the second largest city in the state after Charlotte. Additionally, the capital is home to North Carolina State University.
The Research Triangle which includes all of the above cities was named after the prominent Research Study Universities in these locations. The other two universities are Duke University and the University of North Carolina at Chapel Hill. All schools have a focus on research. These schools are on par with Ivy League schools.
With many museums to choose from, parks to visit, and trails to hike, no wonder folks love calling Raleigh home. So what kind of person is best suited to finding a Raleigh apartment for rent? This city is perfect for those looking to be close to theaters and events and be able to visit nature when desired. Get a little bit of both by attending the local Raleigh Market or the Raleigh Little Theater Rose Garden.

Durham

Durham is home to Duke University, another point on the Research Triangle. With the dense studies of research in these locations, the surrounding areas have implemented new industries. There is a heavy focus on medicine and innovation. Durham also has a history of tobacco and its cultivation.
The railroad was put in and became a bit of a station town. Then after the Civil War, men wanted to have a taste of the tobacco they sampled in North Carolina. Eventually, some of the largest tobacco companies came out of Durham. The American Tobacco Company was founded by J.B. Duke in the late 1800s. Now you can see where Duke University gets its name.
J.B. Duke was an innovator and industrialist. His father was a tobacco industrialist like himself. Although we know the adverse effects of tobacco now, in the 1800s it was a thriving industry that was vital to our economy in the United States. Today, Durham has taken a hold of its tobacco roots but in more of a celebratory way. The town is sprawling with historic districts and museums.

Chapel Hill

The smallest of the Research Triangle cities, Chapel Hill is more of a laid-back, artistic vibe. The population of Chapel Hill is only around 60,000 residents as compared to Raleigh's 400,000 residents. The area holds the second-best public schools in North Carolina which is a draw for young families.
The town offers a lot to do and since it's so family-friendly, there are options that people of any and all ages can enjoy. Educational fun is brought to life at the Kidzu Children's Museum or the North Carolina Botanical Garden. You can also bring the little ones along to the Morehead Planetarium and Science Center.
Ultimately, if you're looking to attend a research school in one of these areas, you should find out how it will work for you by planning a visit. If you're looking for somewhere to move with a family or ready to pursue your career, these cities can offer you security in those as well.