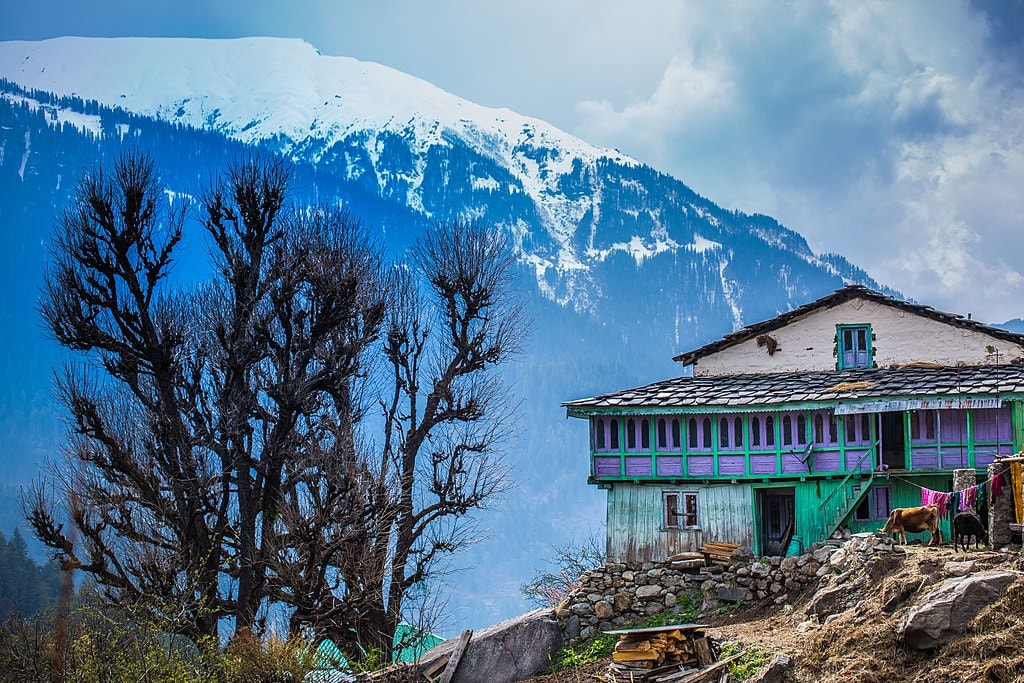 India has a very diverse landscape, which means that the country has a plethora of vacation spots for all types of travellers. The same is true for hill stations in India;
like the Aravallis, Vindyas, and Himalayas, India has a variety of destinations to offer in almost every part of the country.
The British established some of India's most well-known hill stations to escape the hot and humid temperatures of the lower-lying cities.
These hill stations are now popular places for travellers and tourists from all over India.
If you want to plan your trip to the hills, here is a list of the most beautiful hill stations in India known for their tranquilly, landscapes, and laid-back lifestyle:
Kasol, Himachal Pradesh
The hill station is located in Parvati Valley, on the way to Manikaran, a pilgrimage town. It is located 42 kilometres east of Kullu and at an elevation of 1640 feet above sea level.
If you want to relax amid nature, Kasol is the place to go. The village is an open area on the Parvati River's banks where one can spend lazy afternoons. The river is brimming with fish species and is an excellent fishing spot.
However, authorization from the forest department is needed for river trout fishing.
Also known as "Mini Isreal in Himachal Pradesh" due to the recent influx of Israeli tourists has resulted in a proliferation of restaurants, hotels, and shops catering to their requirements. Kasol provides much-needed relief for young Israelis who are looking for a break from their mandatory military service.
Cafes and eateries serve both Israeli and local cuisine.
Lansdowne, Uttarakhand
Lansdowne is an untouched stretch of land of lush greenery nestled in the Himalayas. The hill station is surrounded by pines and oaks and sits at a height of 1,700 metres. The entire hill station is surrounded by charming churches, flowering thickets, springs, and ponds.
Zanskar Valley, Leh Ladakh
Zanskar Valley, located on the north flank of the Great Himalayas at the height of 13,154 feet, is a semi-arid region.
The beautiful snow-capped mountains, pleasant weather, Zanskar's sparkling water bodies, and lovely landscape are what draw tourists to this area.
The valley is 105 kilometres from Leh and is famous for adventure activities such as trekking, paragliding, and water rafting, among others.
Mussorie, Uttarakhand
Mussoorie, also known as the Queen of the Hills, is one of India's well-known hill stations. In 1827, a Britisher named Captain Frederick Young, backed by an official named FJ Shore, climbed up the hill from the Doon valley and discovered this mountain range providing incredible views and a pleasant climate.
It is an enticing paradise for international travellers and honeymooners, and it is an ideal summer resort.
It provides stunning views of Himalayan peaks in Western Garhwal from this vantage point.
Summers are the optimal time to visit Mussoorie because it provides relief from the boiling hot heat of summer. If you want to spend time alone, come here during the winter to see the snowfall. If you are a couple do check out a romantic homestay in Uttarakhand.
Shimla, Himachal Pradesh
Most of the year, the temperature is pleasant, and tourists flock, particularly during the summer season. Winters are cold, with some snowfall from mid-December to the end of February.
Saputara, Gujrat
Gujarat, located between Rajasthan and Maharashtra, Aside from the well-known Rann of Kutch, Gir National Park, and Somnath,
there are several other mesmerising nature spots, ancient sites, relics of early civilizations, and quaint beaches that are less well-known to visitors from around the world.
The Saputara hill station in Gujarat is one such location that will captivate you. This beautiful hill station is a hidden treasure and a haven of calm and peace, with a lush environment, scenic wonders, and individuality.
Saputara, primarily a tribal locality, is becoming popular as a tourist hotspot due to its serene and peaceful environment. If you want to energise your senses, Saputara hill station in Gujarat is the place to go.
Mukteshwar, Uttarakhand
Mukteshwar is a beautiful destination located in Uttarakhand's Nainital district at an altitude of 2,285 metres above sea level. Mukteshwar takes its name from the 350-year-old Mukteshwer Dham temple, whose residing deity is Lord Shiva.
This grand temple, according to Hindu scripture, is one of the most significant temples devoted to Lord Shiva. Mukteshwar Temple's location atop a hill makes it an ideal location for taking beautiful photographs and capturing memories.
Nature lovers should pay a visit to the temple and take in the stunning view. A white marble Shiva Linga with a copper yoni is also present. There are also idols of Lord Ganesha, Brahma, Vishnu, Parvati, Hanuman, and Nandi in addition to the Shiva Linga.
Mukteshwar is the place to go if you want to get away from the scorching summer heat. Do check out some offbeat stays in Mukteshwar.
Kodaikanal, Tamil Nadu
Kodaikanal, in the state of Tamil Nadu, is one of India's most visited holiday destinations. Kodaikanal, a lakeside resort town in Tamil Nadu, has a fabulous climate, mist-covered landscaped cliffs,
and a waterfall that combine to make the dream setting for a relaxing holiday. Kodaikanal translates as "forest gift."
Kodaikanal, nestled among the rolling slopes of the Palani Hills, stands at an elevation of 7200 feet above sea level, and when you visit this hill station, you will discover that everything you imagined it to be is true.
Kodaikanal is a great place to get away from the stresses of city life, and this hill station allows you to reconnect with nature as you ride your bike or trek through the dense forests that surround the town.
Read More – Here